Experience the East Indiaman Amsterdam! Feel what life was like on board a real East Indiaman. Hoist cargo, scuttle through the hold, fire a cannon... try it all! Rinus the Rat is your friend and guide on board the Amsterdam and will accompany you through all the activities.
The ship moored alongside the museum is an exact copy of the famous East Indiaman lost on her maiden voyage in 1749. The Amsterdam can rightly be called one of the most stunning pieces in the museum's collection.
In the 17th and 18th centuries, the Dutch set sail in ships like these, known as 'Dutch East Indiamen,' to the Far East (what we now call Asia). The journey took about eight months. All told, the East Indiamen made this journey nearly five thousand times.
Sudden storm... a broken rudder
In 1749, the original Amsterdam set sail on the North Sea into a sudden storm, breaking its rudder. The captain decided to beach the ship on the southern coast of England in an attempt to save the cargo and crew, and perhaps even the ship itself. Unfortunately, the Amsterdam sank quickly into the mud and was lost. Archaeologists later found artefacts in the wreck providing details of the construction of East Indiamen, their cargo, and life on board.
Work began on building an exact replica of the Amsterdam in 1985. Around 400 volunteers helped out. The ship has been moored beside The National Maritime Museum since 1991.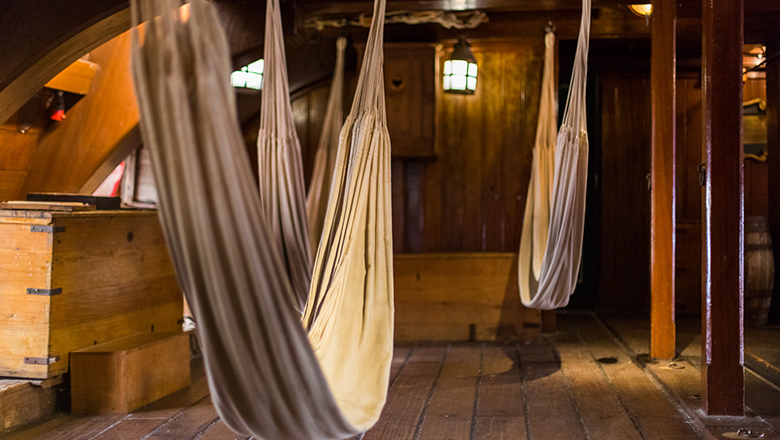 Practical information
Be advised that in the event of inclement weather and storms/wind of force 5-6, access to the East Indiaman Amsterdam will be limited. At winds of force 7 or higher, the ship and jetty will be closed in the interests of the safety of our visitors.