Are you visiting the museum with a group? Groups can book a professional guide for a tour of the museum. Each guide can give a tour for up to 15 people (if your group is larger, we advise you to book multiple guides). Whether you visit the museum with your family, relatives, friends or colleagues, a tour is the icing on the cake and will always leave you with something to talk about.
book now
A guided tour takes one hour at a cost of € 75,00 per guide. To book a guided tour, please contact us by phone +31 (0)20 52 32 252 or send us an e-mail. We would like to receive your request at least two weeks in advance.
guided tours in English
We have guided tours for all ages. Groups can choose from different tours:
highlight tour
Discover the stories behind the finest objects in The National Maritime Museum during this special tour that takes you through our various exhibits.
East Indiaman Amsterdam
Come aboard the Amsterdam! Take a peek in the captain's cabin, the galley and the crew quarters. Discover how sailors lived and worked in the Golden Age. Visit the sailors' sleeping quarters. Find out what meals were served on board. And what happened to sailors who became ill or broke the rules?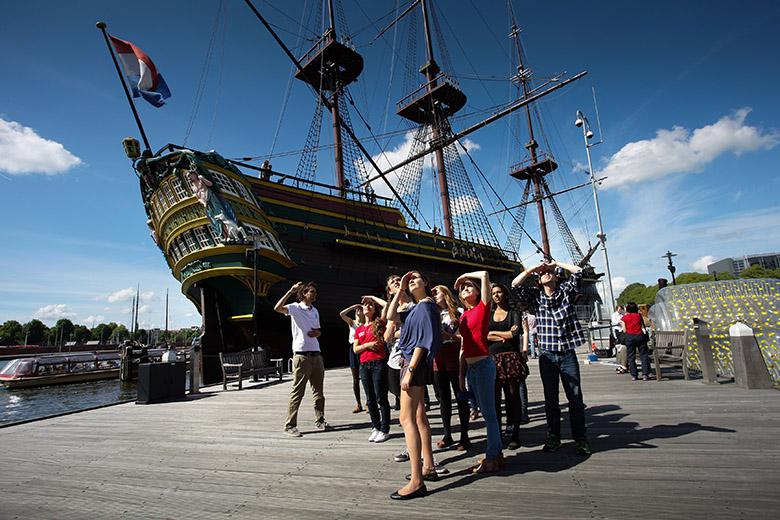 see you in the Golden Age
A tour filled with stories of people from the Dutch Golden Age: a fisherman, a cartographer, a captain's wife. It was a time of power and wealth but also of exploitation and slavery. One thing is for sure: without the sea and seafaring, the Netherlands would have never had its Golden Age.
the tale of the whale
Is it monster, a good meal, or a majestic animal in need of our protection? Inside a life-sized whale's mouth you will discover what a whale smells like, hear its heartbeat and feel its skin. After having visited our fascinating exhibit on the whaling trade you will never look at this clever marine mammal in the same way again.