The National Maritime Museum presents a retrospective exhibition of father and son Willem van de Velde; two leading marine artists from the 17th century with a thriving international family business. Each artist with their own specialism: pen drawings and oil paintings.
The exhibition Willem van de Velde & Son takes you to the maritime world of the Van de Veldes; it takes you past rough sketches, calm seascapes, dramatic storms and impressive naval battles. Make sure not to miss out; for the first time ever, this large amount of works by both artists can be seen side by side.
Get to know the artistic talent and entrepreneurship of the van de Veldes. Father and son ran a flourishing and internationally operating family studio for an impressive period of 70 years. The studio belonged to the absolute higher end of the 17th century marine painting. Willem van de Velde de Oude (the Elder) excelled in pen drawings and Willem van de Velde de Jonge (the Younger) in oil painting. Two recently acquired English tapestries designed by Willem van de Velde de Oude are a true showpiece in the exhibition.
Van de Velde made his sketches on sheets of paper stuck together, which he later worked out as detailed pen drawings in his studio. He took his son Willem out to sea from a very early age to teach him how to observe with a keen eye and to work with a sense of detail.
Willem van de Velde & Son is an absolute must for devotees of maritime history and seventeenth-century art. Visitors coming to see the superb works on show here will be amazed by the technique, the detail and the image conveyed of the vibrant maritime world of the seventeenth century. The exhibition features around 40 paintings and pen paintings, 35 drawings and two exceptional tapestries: these huge wall-hangings measure no less than 5.87 x 3.30 and 4.57 x 3.30 metres.
The exhibition reveals how the Van de Veldes built a flourishing international business founded on artistic talent and commercial insight. Rising to the pinnacle of the seventeenth-century world of marine art, father and son Van de Velde made a huge artistic impact. The show presents a detailed picture of the Van de Velde family business, their expertise in maritime art and their extraordinary creative skill. 
Works are assembled here from collections in the Netherlands and abroad. Major museums such as the Rijksmuseum, Mauritshuis, National Maritime Museum in Greenwich and London's National Gallery have contributed to the exhibition. Two exceptional exhibits are the enormous tapestries originally commissioned by the English king to designs by the Van de Veldes. 
inventive and innovative
For both artists, the sea and its maritime activity were an infinite source of inspiration. Both had their own specialism: Willem van de Velde the Elder (1611-1693) excelled in detailed pen drawings. His son Willem van de Velde the Younger (1633-1707) was "good with color" and made colorful oil paintings. Both father and son were not only talented, but also inventive and entrepreneurial. This made them very successful. The Van de Veldes started a family business around 1650 that flourished for more than seventy years - first from their shop in Amsterdam and later from the English royal court. Thanks to their entrepreneurial spirit, a painting-size pen drawing by Willem van de Velde was an indispensable item for the collections of leading European art collectors, such as the Italian Medici family.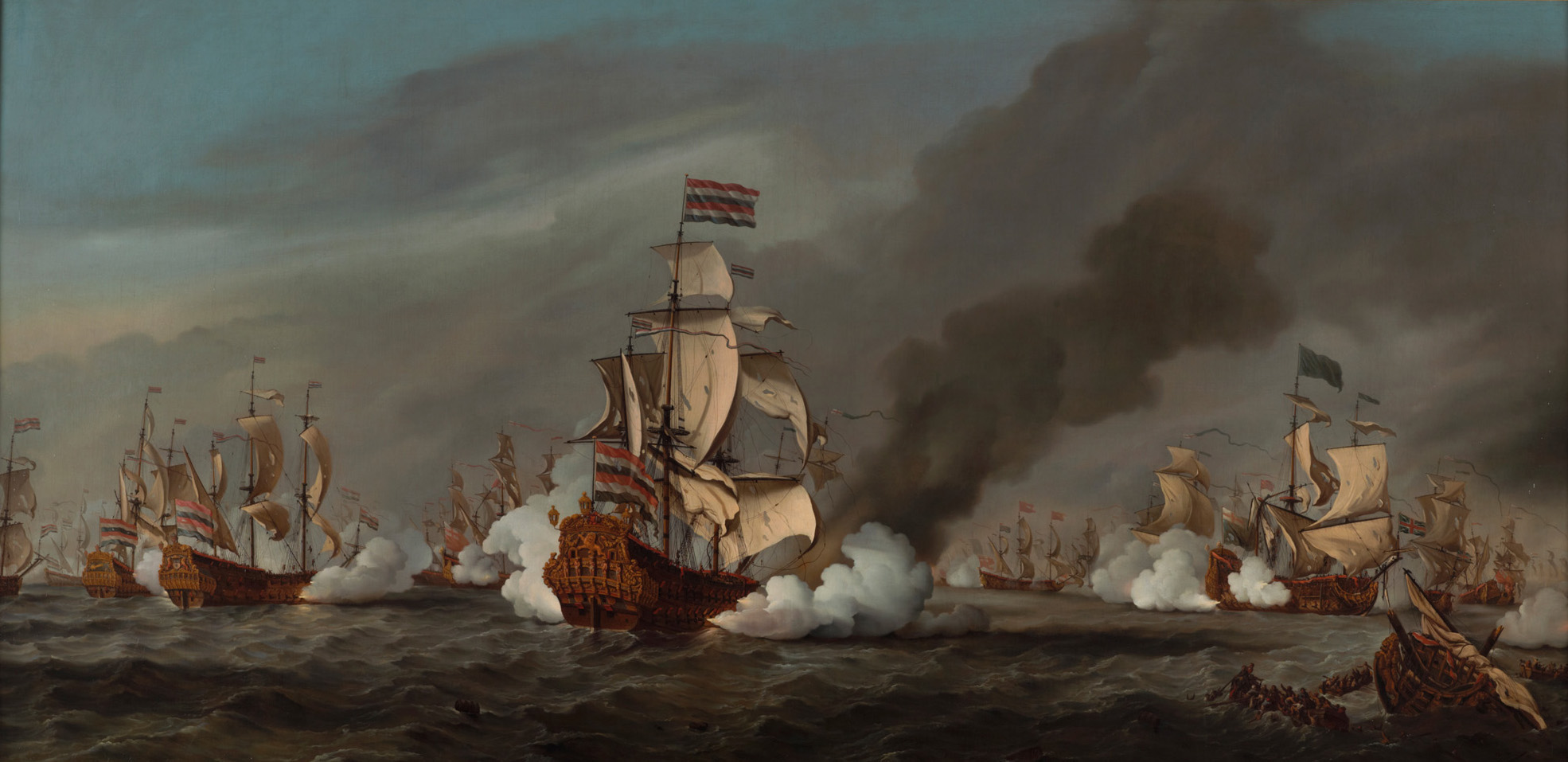 working at the English royal court
The so-called disaster year of 1672 wreaked havoc to the family business. The demand for new works of art halted. This marked the start of a new adventure for the Van de Veldes. At the invitation of the English king, they moved to England to work at his royal court. They took up residence in a studio at the royal palace in Greenwich, east of London. The Van de Veldes continued to work there for eleven years in the service of the English royal family, for which they received a generous salary. Willem van de Velde the Younger continued to grow artistically. His paintings of dramatic storms as well as calm seascapes were in great demand.
Willem van de Velde & Son was made possible with support from Het Compagnie Fonds, Mondrian Fund, Fonds 21, Turing Foundation, VriendenLoterij, Prince Bernhard Culture Fund, Zabawas Foundation, Nico Nap Foundation, Samenwerkende Maritieme Fondsen and Gravin van Bylandt Stichting.