From April 14 2017 until 30 September 2018 Joan Blaeu's map of the world, dating from 1648, one of the absolute highlights of The National Maritime Museum in Amsterdam, is open for public. Its size is impressive – over 2 by 3 metres – and at the time it displayed the most up-to-date knowledge of the world we live in.
This version of the map is absolutely unique. After being hidden away for a long time, the map is once again open to the public as part of the exhibition 'The world according to Blaeu | Master Cartographer of the Golden Age'. 'The world according to Blaeu's is a supplement to the popular 'Atlases' exhibition.
Surprising Details
With the aid of a magnifying glass visitors can discover and marvel at even the tiniest of details. Blaeu's map of the world is one of the first maps to display the coastline of Australia, known to Blaeu as Nova Hollandia, and New Zealand, which had very recently been discovered by the explorer Abel Tasman. We can also see how the Westerners looked upon the rest of the world with an air of superiority: cannibals in South America, llamas in South America, elephants in Africa, sea monsters and naval battles.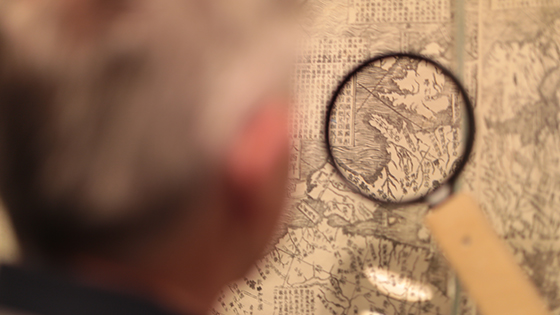 The Amsterdam-based firm Blaeu
The firm Blaeu was the biggest producer of maps in the seventeenth century. Blaeu's maps were based on earlier maps, traditions passed down through the generations, as well as the latest discoveries. The Blaeu firm's bookshop was established 'on the water', on what is now the Damrak in Amsterdam. This location, so close to the port, was no fluke: this was where new products and information arrived from exotic locations across the globe. Seamen, merchants, scholars and regents were drawn to Blaeu's firm, fascinated by his knowledge and skills. The firm's cartographical knowledge influenced the entire world's view of itself, with many cartographers attempting to imitate or surpass Joan Blaeu.
Joan Blaeu's unique map of the world from 1648 exhibition is open for public on April 14 until 30 September 2018 at The National Maritime Museum and is sponsored by the Bankgiro Loterij.