Amsterdam Port & City shows the age-old relationship between the harbour and the city, from the moment a dam was built in the Amstel to the future.
connected through the ages
On the basis of various objects and stories, which happened in specific places in the harbour and the city, the visitor is taken into the present, past and future of the connection between the harbour and the city. The exhibition starts in the 13th century and ends with a look at the future. In the first period, the formation of the city and the harbour are central. Archaeological finds illustrate how Amsterdam and its harbour developed into the most important port in the Netherlands. In the period after that, from 1600 to 1800, the harbour and city even developed into a gateway to the world. At the end of the 19th century, the harbour experienced a second flourish. Steam shipping was on the rise and shipbuilding was important for employment. Today, harbour and city are still closely linked. Themes such as area development and housing are high on both agendas. We also look to the future with topics such as energy, sustainability and mobility.

interactive and in-depth
In addition to the different objects and paintings, stories are also told through different games. For example, visitors can prepare a ship for departure by "buying" products that are needed for this. And the diversity of the harbour is shown in a game about transshipment, where goods must be brought to their destination as efficiently as possible. In addition, visitors are challenged to think about the future. Via various dilemmas, they can see how certain choices affect both the harbour and the city.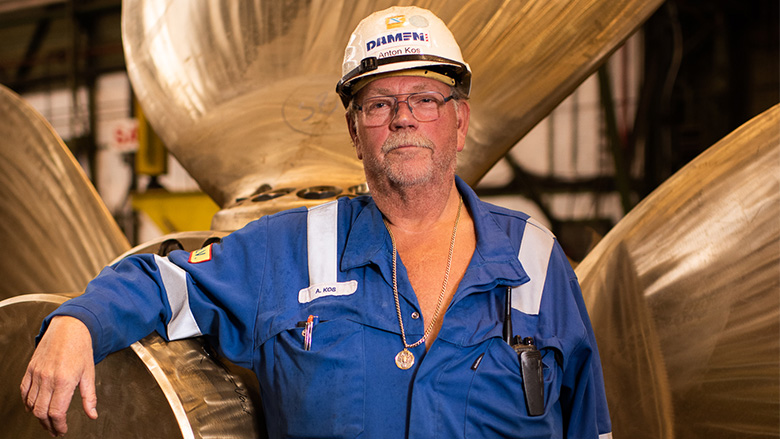 The harbour has long been one of the city's main employers. Many people from Amsterdam, but also from far beyond, have worked at the harbour. The exhibition tells their story. Who were they? Where did they come from? And what were they doing at the harbour? But even today, tens of thousands of people still work in and around the Amsterdam port. The stories of these people show the connection between harbour and city.
Amsterdam Port & City is made possible thanks to Port of Amsterdam and partners Amports and ORAM.