Inclusion, diversity, and polyphony; these are important themes which predominate in the current museal debate, including our collection. In this article we report on an oral history project on LGBTQ culture aboard Dutch merchant ships in the 1950s to 1980s.
a polyphonic and multicolored course: the oral history project LGBTQ culture at Sea
The National Maritime Museum increasingly pays attention to themes such as inclusion, diversity, and polyphony, which run like a common thread through our mission and vision and underlie, for example, public programming and collection building. With an 'open culture, attention to inclusion and public participation', the museum uses its collection and maritime developments from the past to stimulate current social debates - including those relating to (cultural) diversity. A great ambition, but how is it implemented in practice? In this article we elaborate on an upcoming oral history project on LGBTQ culture on board of Dutch merchant ships in the 50s to 80s. 
oral histories
The National Maritime Museum is setting a course for a more inclusive and polyphonic interpretation of the maritime past. Within the domain of collection building – what to save for the future? – this means looking more actively for objects and stories that lie outside the dominant narrative; these can be, for example, objects and stories of groups that until now have remained completely or largely outside the general historiography. By collecting much more widely, the museum wants to do more justice to the versatility of the maritime past in the hopes of being able to paint a more nuanced picture of it. The more people who identify with that broader outline, the better.
Oral histories, first-hand stories from people, can play an essential role in making the collection (literally) polyphonic. Personal stories of seafarers and dock workers, for example, show the diverse ways in which the lives of so many different individuals are connected to the maritime world, where it may not be possible to explain it with objects. It is not without reason that oral histories form a new spearhead within the collection plans of the museum.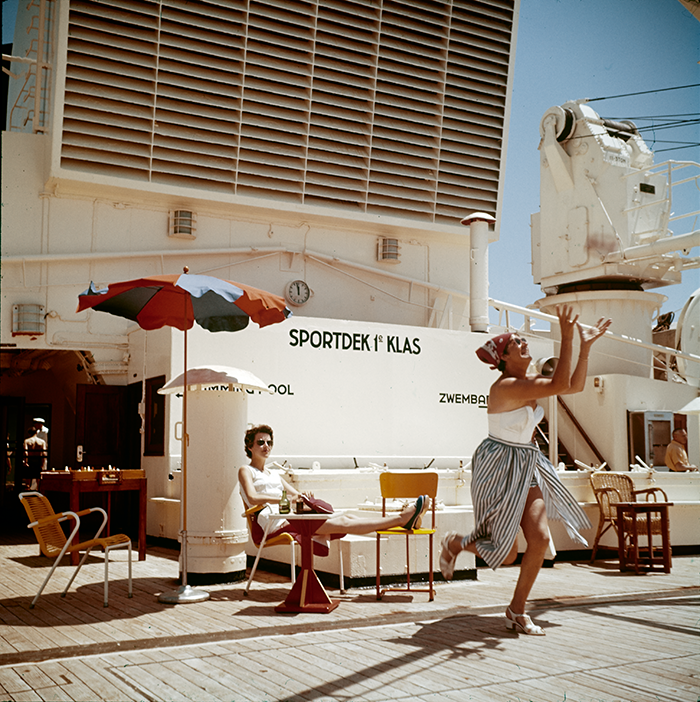 the sailor: masculine and licentious?
Traditionally, seafaring has been regarded as the domain of tough, masculine sailors. The sailor is anchored in stereotypes and is portrayed as an immoral and licentious figure with unavoidable paraphernalia as alcohol, tattoos, tobacco, and women.
With the oral history project LGBTQ at Sea, which was launched at the beginning of this year, the museum is participating in a relatively recent movement within maritime historiography which moves away from this stereotypical image and focuses on non-normative seafarers; for example seamen who identify as non-heterosexual and non-cisgender. Cisgender means that one's gender identity corresponds with one's assigned sex at birth. The project focuses explicitly on gay, bi- and transsexual crew members on board of Dutch merchant ships in the 1950s, 1960s and 1970s, whom the museum wants to enable to have their say. Through the project, the museum wants to research whether (some of) these ships have been places where crew members could experiment with their sexuality and/ or gender identity.
The project is being carried out in the wake of previous research in the UK and Sweden. The groundbreaking Hello Sailor!: The hidden history of gay life at sea by Jo Stanley and Paul Baker was published in 2003. Swedish sociologist Arne Nilsson expanded on their study in 2006 by examining the Swedish context. Both studies, also based on oral histories, show that on (some) British and Swedish merchant ships during this period there was a tolerant climate in which crew members could be 'out' and 'camp' at a time of discrimination and stigmatization ashore. Never before has this phenomenon been brought to light in maritime history.
Between 1950 and 1980, the crew of merchant ships consisted mainly of men, just like today. A significant proportion of the ship's service personnel was homosexual, the British and Swedish authors say. Compared to cargo ships, they formed a relatively large group within the crew of passenger ships. They usually held service-oriented positions such as purser, waiter, or bartender and differed in their sexual orientation or feminine behavior with their colleagues working on deck or at the engines. Spatial (and therefore physical) separation between these groups was due to the arrangement of canteens and cabins, which were located in a different location on the ship for each section of the crew. This separation also ensured that a common identity could be formed among certain (LGBTQ) crewmembers of the service department, that can be described as a subculture. A strong sense of shared identity and community manifested itself in organizing parties, performances, and fashion shows; activities in which crossdressing played an important role.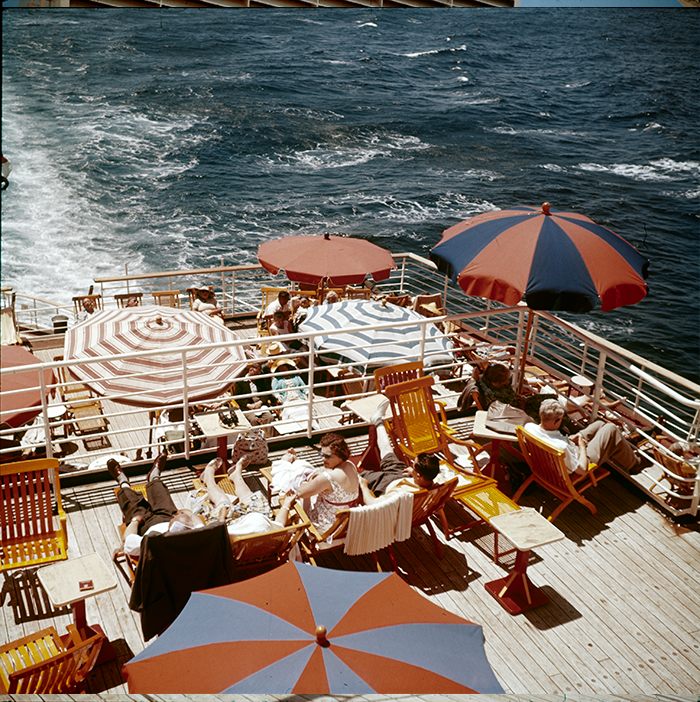 Dutch LGBTQ crewmembers
Did an LGBTQ-subculture also exist on (some) Dutch merchant ships during this period, and was it comparable to that on the studied British and Swedish ships? Which factors (including ashore) ensured that this subculture did or did not arise on board Dutch ships? These are questions that the museum would like to answer through the oral history project LGBTQ at Sea. Calls have been placed on various channels for former crewmembers to share their stories about LGBTQ-culture on board with us. We want to safeguard their important histories for future generations. This means that the audio files of the interviews and their full transcripts (anonymized, if desired) will be included in the museum's collection on a permanent basis.
Authors: Sara Keijzer & Bob van de Poll