The state yacht 'Statenjacht de Utrecht' is a reconstruction of an 18th-century admiralty yacht, built according to traditional methods between 1997 and 2003 on the basis of original drawings dating from 1746.
objectives of building the ship
The most important objective of the construction of this ship was to offer training and employment to young people with a disadvantage on the employment market. The second objective was a historical one: to perform research into shipbuilding methods from the 17th and 18th centuries. The best way of doing this was to build a unique, cultural-historical monument: a real state yacht. 
visitor information
'Statenjacht De Utrecht' will be moored at Het Scheepvaartmuseum from 28 April to 1 May inclusive. You can take a look around on board every day, and ask the crew questions. The ship is open from 10:00 AM to 4:30 PM (last group admitted at 4:00 PM). 
Please note: on Wednesday 27 April - King's Day - both the museum and the ship will be closed.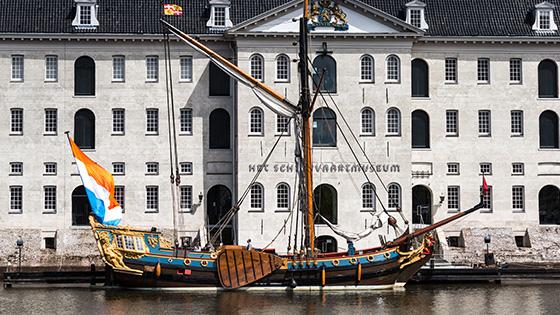 technical information
Dimensions: 23.5 m long, 5.5 m wide
Draught: 1.35 metres
Mast height: 21.5 metres; the total sail area amounts to 156 m2. 
Weight: 86 tonnes Interesting detail: A total of around 300 m3 oak was used in the construction of this ship. This wood came from forests in Denmark. These forests were planted 200 years ago with acorns from the Netherlands, so even the wood is 'authentic'.