Hooray! The National Maritime Museum has won the VriendenLoterij Museum Prize 2022.
HURRAY!
With unprecedented pride, The Maritime Museum may call itself the winner of the VriendenLoterij Museum Prize 2022 with the theme 'Best Neighbour'. What an honour and what a beautiful recognition for our museum. We thank everyone who voted for us, as well as all our neighbours, friends, and valued partners who helped us make the campaign visible. With the prize, we will realize our dream: the multi-year program line Home Port. Home Port takes place both in the museum and outside, on the water. Because we strongly believe water connects worlds. Because where people sail, worlds come together.
An exciting competition
For the past few weeks, it has been an exciting time for both The Maritime Museum and the Stadsmuseum Harderwijk and the Centraal Museum Utrecht. All three have campaigned in their own way to generate as many public votes as possible to win that coveted €100,000 to realize their museum dream. General Director Michael Huijser: "Winning this amount of money is not only a crowning achievement for our work in recent years, but also the starting point for realizing our dream. With this amount, we want to make The Maritime Museum even more a place for the neighbourhood. A real Home Port where a diverse audience can feel at home daily. As a neighbour, we connect residents, colleagues in the neighbourhood, organizations and companies, and local government. This mission is our guide for the future and will remain the basis of our public programming, cultural activities, and partner collaborations."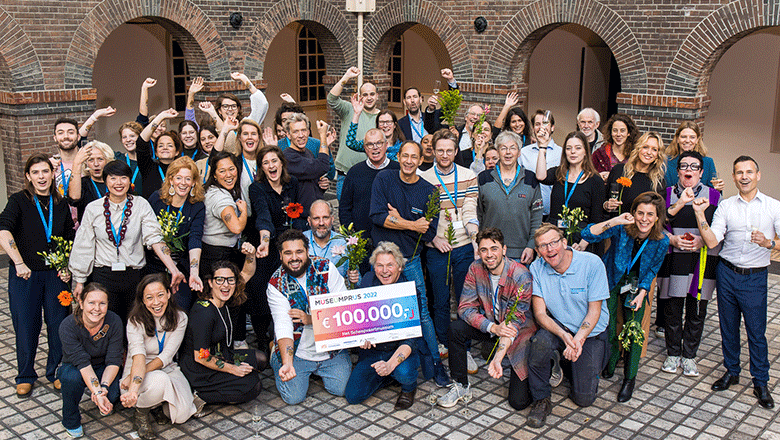 Celebrating together
To celebrate this great news with everyone, we will treat our visitors to cake during the weekend (Saturday 3rd and Sunday 4th December 2022). Many thanks to everyone who cast a vote and to all the partners in the maritime and cultural sector who support us. Special thanks go to the VriendenLoterij, the Museum Association, and the Prince Bernhard Culture Fund. 
Under the motto 'Water connects worlds', The National Maritime Museum preserves 500 years of Dutch maritime history and connects it with today's society and the future through permanent and temporary exhibitions and a rich range of public programs. We do this in collaboration with various partner organizations in the fields of culture, water sports, and education.