The exhibition Life on board is an interactive exhibition for the entire family
This exhibition tells you all about everyday life on board ships over the centuries - from the era of the Dutch East India Company to the present day.
Play the lifesize interactive board game and learn all about life on board
By playing an exciting, lifesize board game you will discover what life was and is like on a ship. Who does what? What do people eat and drink? Is it clean on board, or not really?
This interactive family exhibition for is set up as a board game for young and old. Carrying a ship's bucket that holds a tablet computer, you visit six 'islands' featuring model ships, work clothes, souvenirs, and navigation 'instruments'.
A fun way of learning all about the ranks and stations on board, the titles given to the crew members, how clean the ship is kept, the food and drink on board, scurvy, and punishments for misbehaviour, including the punishment of keelhauling.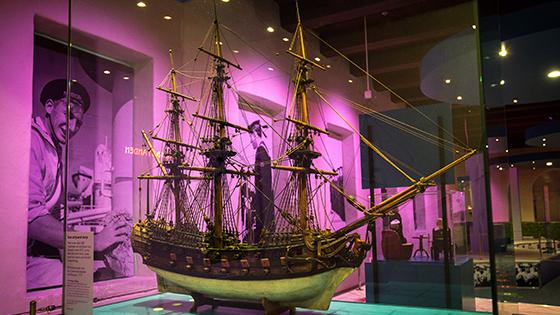 Climb your way up from Sailor to Captain of the ship
The aim of this exciting game is to work your way from the lowest rank of sailor all the way up to captain by answering the questions correctly. At the end of the route, you can enter your score into a computer and your captain's certificate will be (digitally) sent to you at home. The questions are set at various levels to make the exhibition suitable for all ages.
Special section for children ages 6 and under
A separate part of Life on Board has been especially designed for children under the age of six, with a film about animals on board featuring Rinus the Rat and his buddy Flea, the two 'crew members' of the East Indiaman Amsterdam.