Het Scheepvaartmuseum in Amsterdam launched Dare to Discover, a Virtual Reality journey that takes you back to the Dutch Golden Age.
Back to the 17th century
On board the East Indiaman Amsterdam, Dare to Discover transports visitors back to the 17th century when Amsterdam was the world's largest port and the Netherlands was a world power. The VR journey allows visitors to witness a number of unique happenings from those days such as the construction of the Zeemagazijn - now home to Het Scheepvaartmuseum – and the building of warships on the shipyard premises. They can even join a farewell on the quayside where the crew is boarding one of the Dutch East India Company's ships.
Practical information
• Admission to Dare to Discover is included in the museum ticket.
• The VR is only available with an online ticket. Book your tickets in advance online at our website.
• You don't have to print your ticket, you can show it on your smartphone or tablet.
• The VR is open to adults and children aged 8 and older.
• Dare to Discover will play every 15 minutes between 9.30 AM and 4.30 PM. 
• Please be present on the East Indiaman Amsterdam on time.
• If you're too late, unfortunately you no longer have access to Dare to Discover. You have to book a new ticket.
• The VR can cause nausea and disorientation.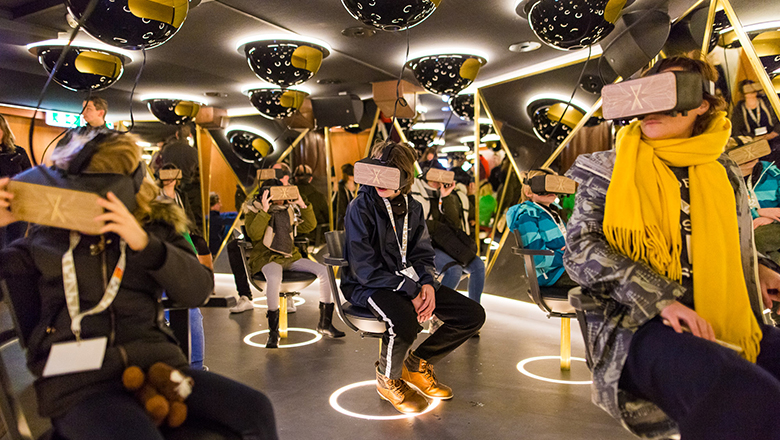 Concept and development VR
The concept for the interior design and the identity of the VR is developed by NorthernLight. Shosho is responsible for the realisation of the content of the VR.
Sponsors of Dare to Discover
'Dare to Discover | A VR Journey' has been made possible thanks to an extra donation from the BankGiro Lottery. Almost 600,000 people in the Netherlands regularly take part in the BankGiro Lottery. Half of the price of each lottery ticket goes to support various cultural initiatives, such as this VR journey. The museum's own Compagnie Fonds, a foundation comprising donors supporting Het Scheepvaartmuseum, has also contributed to the development of Dare to Discover.