Travel through time? At the Dutch National Maritime Museum it is possible! Go back to the Dutch Golden Age with the spectacular Virtual Reality time trip 'dare to discover – a VR journey'. The VR can be seen on board of the VOC ship Amsterdam.
what is there to see?
During your trip you will make a flight over Amsterdam's historic harbour and experience how this area rapidly develops into a busting port. You will witness a number of events, including the development of the impressive shipyard and the Zeemagazijn – the current museum – and the construction and launch of a war ship. You can also see the Montelbaanstoren, where the moment of departure takes place on the quay. Sailors, seamen and soldiers embark on the VOC ship and say goodbye to their families. And isn't that Michiel de Ruyter 'walking with his wife'?
reviews
Hans van der Beek in Dutch newspaper Het Parool: 'The six most spectacular moments of the year!'
Pernille in the broadcast of Dutch morning TV show Koffietijd: 'Amazing! Really cool!'
for whom is this exhibition?
This exhibition has an advised age minimum of 7 to 8 year old.
how long will the exhibition be on view?
'dare to discover' is a permanent exhibition.
where in the museum is the exhibition?
You will find the exhibition on board of the VOC ship, outside on the quay.
what hours can the exhibition be visited?
The exhibition can be visited daily between 09.30 A.M and 4.30 P.M.
practical information
• admission to 'dare to discover' is included in the museum ticket.
• the VR is open to adults and children aged 8 and older.
• 'dare to discover' will play every 15 minutes between 9.30 AM and 4.30 PM. 
• the VR can cause nausea and disorientation.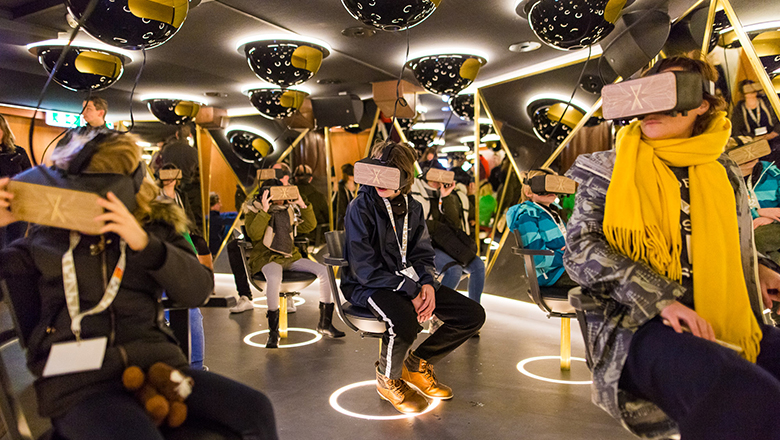 concept and development VR
The concept for the interior design and the identity of the VR is developed by NorthernLight. Shosho is responsible for the realisation of the content of the VR.
sponsors of 'dare to discover'
'Dare to discover | a VR journey' has been made possible thanks to an extra donation from the BankGiro Lottery. Almost 600,000 people in the Netherlands regularly take part in the BankGiro Lottery. Half of the price of each lottery ticket goes to support various cultural initiatives, such as this VR journey. The museum's own Compagnie Fonds, a foundation comprising donors supporting Het Scheepvaartmuseum, has also contributed to the development of 'dare to discover'.
VOC ship/East Indiaman Amsterdam
The VR experience is located on board of the VOC ship Amsterdam. Read more about the ship.
the Golden Age
The VR experience takes you back to the Dutch Golden Age, an era when the Republic of the Seven United Netherlands was one of the world's most powerful and richest nations. They were prosperous times, thanks mainly to shipping. Read more about the Golden Age.