Thought time travel was impossible? Think again. Jump into this exciting journey brought to you by the National Maritime Museum Amsterdam. Travel through a bustling harbour — just as it was in the 'Dutch golden age'. Look around and your view will change through clever 360 VR as if you were actually there. The VR can be seen on board of the VOC ship Amsterdam.
You've never experienced a voyage like this before, it starts from the replica Dutch East Indiaman and takes you into the harbour itself as huge new war ships are built and launched, small rowing boats transport passengers in-between, and Dutch East Indianmen sailors pack up their wares. There's even a sighting of the famous Admiral de Ruyter. Climb aboard and enjoy the ride.
what
This is a virtual reality (VR) voyage, inspired by the 1664 masterpiece 'View of the river IJ with 's Lands Zeemagazijn', by Reinier Nooms. A virtual journey from right outside the National Maritime Museum itself, showing the changing Amsterdam skyline. Reinier Nooms is one of the most important maritime painters of the 17th Century. He owed his nickname 'Zeeman' (The Seaman) to his many sea voyages.
The VR experience can be visited when the museum is open between 11:00 and 16:00, provided there is enough staffing available.
This Maritime Museum Amsterdam VR experience is free with a valid museum ticket.
who
Recommended for adults and children aged 8 upwards. Younger children are allowed at parents' discretion. There are two disabled places per session and lift access to this deck.
where
'Dare to discover' exciting VR experience takes place on the replica Dutch East Indiaman ship 'Amsterdam,' outside the North wing of the maritime museum. Once outside, walk the jetty and take the steps or lift to the orlop deck, turning right into the ship's bow.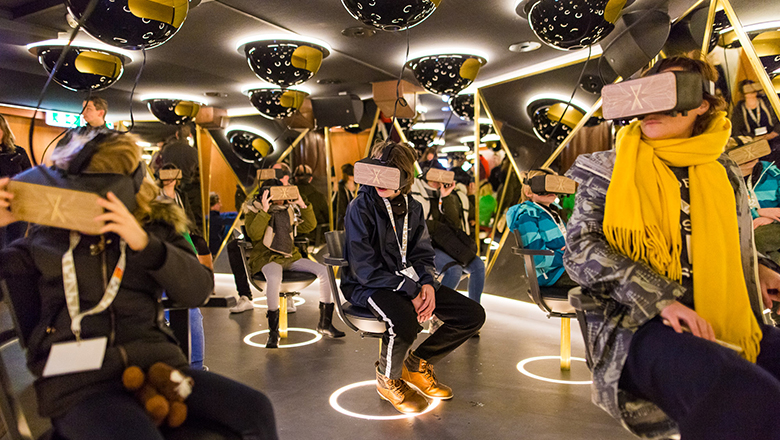 About
Can you imagine what Amsterdam used to look like before it was as built up as now? Well, now you can as you see the growing skyline recreated in front of you from our own National Maritime Museum viewpoint.
During your trip, you'll make a flight over Amsterdam's historic harbour that starts from inside the ship and travels up to the crow's nest before moving along outside. You'll feel part of the story, and see things you've never seen before, including construction in the impressive shipyard and the Zeemagazijn (area around the Dutch Maritime Museum), with the launch of a huge war ship from right in front of your eyes.
An original defence tower built in 1516 and part of the city walls, the Montelbaanstoren will loom up to your right. It's an important part of the city, where many merchants from far off places handled the arrival and dispatch of exotic goods. Dutch East India Company sailors left on long voyages from here, and it still stands there today.
Watch a sad farewell as a departing ship is loaded: can you imagine saying goodbye to your husband or son, not knowing if you would ever see them again? And isn't that Michiel de Ruyter a Dutch celebrity admiral out walking with his wife?
More about the story of life in a busy harbour
Amsterdam didn't always look like it does today. It grew as more people and trade passed through it. The skyline changed fast as new land was reclaimed, and the way ships were built and sailed changed with it. This gives an important snapshot into the many uses of the harbour, and was the starting point for much Dutch trade, important ship building, and naval practices. Did you know that Amsterdam became so busy partly because the harbour overtook Antwerp's in manufacturing? For the first time ships were built fast, part by part in a factory line.
reviews
Hans van der Beek in Dutch newspaper Het Parool: 'The six most spectacular moments of the year!'
Pernille in the broadcast of Dutch morning TV show Koffietijd: 'Amazing! Really cool!'
the 'Dutch golden age'
This is a sailing story from back in an era when the Republic of the Seven United Netherlands was one of the world's most powerful and richest nations. They were prosperous times, thanks mainly to shipping. Read more about the 'Dutch golden age' or visit our Main Gallery with the exhibition Republic at Sea for more insights into daily shipping life.